Why use Be Creative Catering in Northern Kentucky?
Are you looking to cater a special event, but want it to be unique and memorable? If so, Be Creative Catering in Northern Kentucky has got you covered! Our team of experienced professionals will work with your specific needs in order to create an unforgettable experience that is tailored the way you want. Through creative and customizable menu ideas, efficient scheduling and premium ingredients we strive to make sure every detail is taken care of for any occasion or event at your desired location. We guarantee top notch service that meets all dietary restrictions including vegan and vegetarian options along with gluten free options as well. Let us put our passion for food into action for organizing meals that are both beautiful and delicious. With Be Creative Catering, satisfaction isn't just guaranteed; it's our mission!
Advantages of using Be Creative Catering in Northern Kentucky
When it comes to planning events or gatherings, the food is always one of the most important aspects. That's where Be Creative Catering comes in. Be Creative Catering is located in Northern Kentucky and offers a range of advantages that make us your top choice for any occasion. To start, our menu is truly one-of-a-kind with lots of creative options to choose from. From unique hors d'oeuvres to delicious entrees, Be Creative Catering will definitely impress your guests' taste buds. Not only that, but our team is dedicated to providing excellent service, ensuring that your event runs smoothly and without a hitch. With Be Creative Catering, you can rest assured knowing that the food and service will be top-notch, making your event truly unforgettable.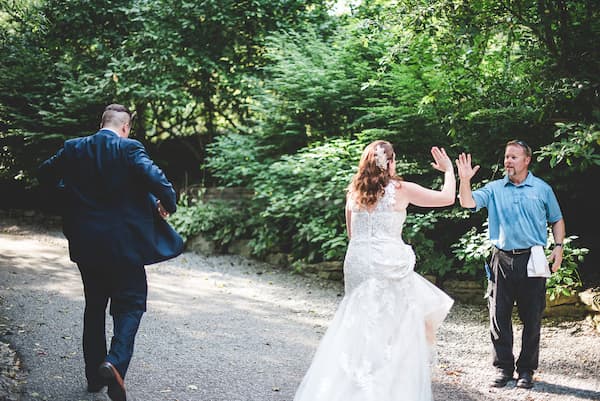 Recent Reviews from Satisfied Customer at Longworth Hall:
Michelle was a source of guidance on everything related to the catering requirements for the wedding, and having ample experience with the venue, made us feel like guests at our daughter's wedding.

On the wedding date, the team of Brandon, Jennifer and Jen, set up everything very discretely "behind the curtain", while the guests were getting seated and during the actual wedding ceremony, which was a few feet away from where they were setting up the buffet. I did not even realized they were already there. Only after the ceremony ended, when I went looking for them, I realized all the work they have already done! Great job!

During the buffet, they were on the top of their games, making sure everything was flowing right, and removing the plates from the tables in a very efficient and undisruptive manner. The food my daughter, and now husband, selected, was the Mexican buffet. Everybody praised it, and many went for seconds.

The deserts selected, per Michelle's recommendation, also received lots of praises: raspberry swirl cheesecake, white and chocolate sheet cake with white icing, cookies and brownies. Be Creative Catering was a very important factor on the success of our daughter's wedding. And they really made us feel like guests at the wedding.

THANK YOU!!
Reasons to Keep Coming Back to Be Creative Catering in Northern Kentucky
Be Creative Catering in Northern Kentucky is not your ordinary culinary experience. With our delicious food, top-notch service, and attention to detail, it's no wonder why people keep coming back. From weddings to corporate events, private dinners to holiday parties, Be Creative Catering provides a personalized touch that makes each event unique. The chef uses local and seasonal ingredients to craft innovative dishes that leave guests raving. The service staff goes above and beyond to ensure every guest is taken care of and feels special. With so many reasons to keep coming back, it's no wonder why Be Creative Catering in Northern Kentucky has become a beloved and trusted catering company in the community.